Cheerbb, a dark horse is leading children industry.
On 18th August, China's largest innovation and entrepreneurship trading circle Dark Horse Club set up it branch in Wenzhou. That very day, the local government authorities, the founder share-holders of VIPSHOP, FAPAI Group Chairman Peng Xing, Aokang Group Chairman Wang Zhentao, and Wang Cen from Sequoia Capital were present, and they jointly discussed and explored the innovation and entrepreneurship road for Wenzhou traders. Cheerbb, as one member of the first batch, successfully drew attention from all parties with its iterative innovative thinking, and finally took the first place in the very day's roadshow project.
Setting up ecological cooperation mode and continuously integrating high quality resources of industry, Cheerbb is now construct a system- Cheerbb Children Intellectual Toys Kingdom- which is based on Internet data collection and is combined with children talent testing system on Internet. Once constructed, this system will provide the whole industry with solutions. Set forth from children' s mind health, with forces from the whole society, this system is dedicated to children' s talent development career and construction of educational toys purchasing data circle.
Why Cheerbb appears?
In current society, "Do not let children lose at the beginning" has always been emphasized. Parents' anxiety leads children to learn more and more. But for Cheerbb, learning as much as possible is not the emphasis. What we stress is that every child is a genius as long as you can find it. Let the children's talent shine!
How to create a whole service system to discover and nurture children' s talent, and finally lead them to forge into happy life? With this concepts, the founder Wu Longying established Cheerbb.
What has Cheebb done?
Cheerbb has a close relationship with Dr. Howard Gardner at Harvard University. With reference to his Multiple Intelligence Theory, Cheerbb has been awarded the Twelve-Five Educational Scientific Research Experimental Base, which attracts experts team, elite executive team from home and abroad to jointly devote to this career.
Cheerbb has set up branches in several core business circle, such as Wenzhou, Jinhua, Ningbo and Shanghai. After the continuous healthy operation and business mode perfection, Cheerbb is on the way to national cooperation.
Cooperation Hot-line:400-153-5161
Relevant Media Reports: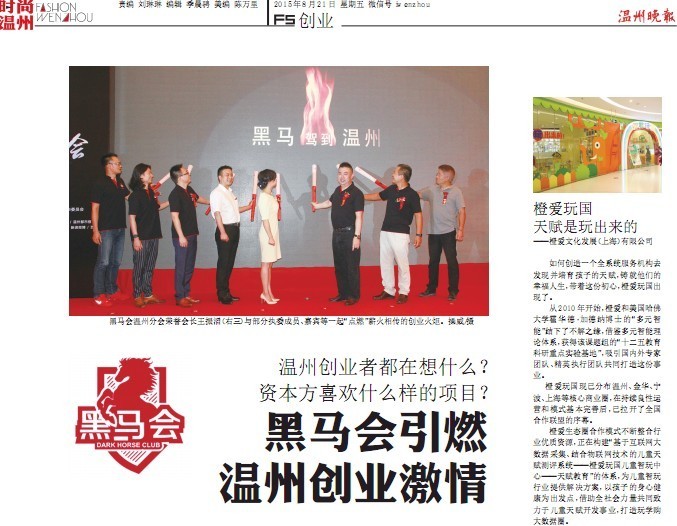 Live pictures collection: